---
2003 Honda Rancher 350 4X4 Specs & Review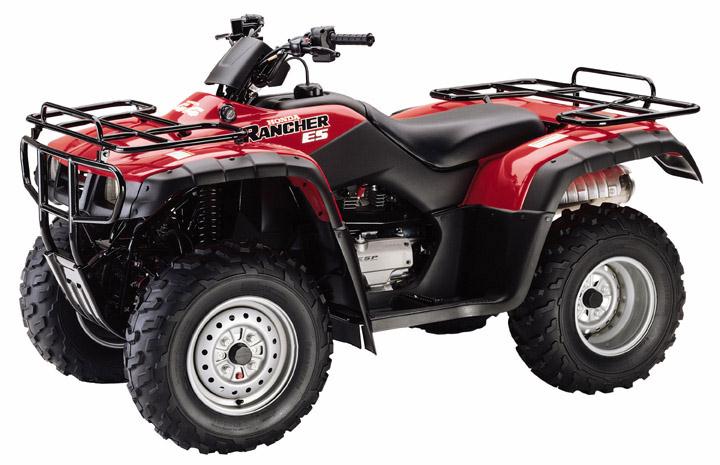 ---
Honda Rancher 350 Review
The release of the new Honda Rancher 350 brought about a change of style along with a new series of options from which buyers can choose from. These options varying between optional 4x4 or 2x4, a new electric shift mechanism, or the standard foot shifter. All of which are powered by a 20.6 HP 329cc OHV engine which is an improvement upon the previous Fourtrax 282cc. The base price for the Rancher 350 is $5,199 and goes up from there depending upon the included options. Some basic Rancher 350 specs are included below with a more in depth listing further below.


        Honda Rancher 350 Price/MSRP        | $5,199 

        Honda Rancher 350 Displacement      | 329 cc 

        Honda Rancher 350 HP                | 20.6 HP 

        Honda Rancher 350 Torque            |  

        Honda Rancher 350 MPG               |  

        Honda Rancher 350 Oil Capacity      | 1.95L 

        Honda Rancher 350 Oil Type          | Pro Honda GN4 or HP4 4-stroke oil 

        Honda Rancher 350 Fuel Capacity     | 3.43 gal (13 L) 
 
        Honda Rancher 350 Front Tire Size   | 24 x 8-12 

        Honda Rancher 350 Rear Tire Size    | 24 x 9-11 

        Honda Rancher 350 Compression Ratio | 8.8:1
            
---
When people seek to purchase an ATV whether it be for work purposes or even leisurly riding they are tempted to go out and buy the largest and most powerful machine that they can. This is not always the best or ideal solution, there are a lot of factors that come into play when buying. One of the most important things to keep in mind is that bigger is not always better, but it does mean more expensive! This is where the Rancher 350 comes into play, being as it is versatile, powerful, and smaller in size and weight in comparison to other larger models such as the Foreman 450. Its the perfect all around ATV for those looking to buy something that can handle those long days out on the farm or ranch, but also speed down those smooth or rugged trails on those days off.
When considering the newer Rancher 350 we see new advances in technologies that help bring this ATV one step into the future. The most prominent one being the addition of an electric shift model. The electric shift or ES as it is better known is one of the first and most influential electronical change that Honda has introduced for its ATV lineup. Allowing drivers to choose which gear to be in with the use of a button rather than the standard foot shifting method. This makes the machine all that more accessible to the like of farmers and rough riders who need easy access to shifting when going through bumpy terrain.
Whatever it may be, the Honda Rancher 350 has an answer for it. This is one of the most versatile machines of its time and has something in stored for everyone. I have collected a variety of information and specifications of this new Honda ATV model as well as many others including other models released this year and future years ahead. Alongside this listing is also a listing on repair information for this model including torque specs, common problems, corresponding repairs, and information that is essential to keeping these machines in top condition.
---
Rancher 350 Full Specifications
Identification
Model Type
Utility
BASE MSRP(US)
$5,199.00
Warranty
12
Engine:
Engine Type
Single-Cylinder
Cylinders
1
Engine Stroke
4-Stroke
Valve Configuration
OHV
Displacement (cc/ci)
329 / 20.08
Horsepower
20.6 HP
Carburetion Type
Carburetor
Engine Oil Capacity (Draining)
1.95 liters (2.06 US qt)
Engine Oil Capacity (Disassembly)
2.5 liters (2.6 US qt)
Recommended Oil
Pro Honda GN4 or HP4 4-stroke oil
Transmission:
Transmission Type
Manual / Automatic Clutch
Number Of Speeds
5
Primary Drive (Rear Wheel)
Shaft
Reverse
Yes
Wheels & Tires:
Front Tire (Full Spec)
Dirt Hooks 15: 24 x 8-12
Rear Tire (Full Spec)
Dirt Hooks 14: 24 x 9-11
Brakes:
Front Brake Type
Dual Hydraulic Drum
Rear Brake Type
Mechanical Sealed Drum
Technical Specifications:
Wheelbase (in/mm)
49.1 in / 1,246 mm
Fuel Capacity (gal/l)
3.43 / 13
Seats:
Seat Height (in/mm)
32.4 / 824
Number Of Seats
1
Drive Line:
Driveline Type
4X4
Number Of Driveline Modes
1
Lights:
Halogen Headlight (s)
Standard
Measurements:
Overall Length
1,983 mm (78.1 in)
Overall Width
1,143 mm (45.0 in)
Overall Height
1,130 mm (44.5 in)
Wheelbase
1,246 mm (49.1 in)
Ground Clearance
184 mm (7.2 in)
Seat Height
824 mm (32.4 in)
Footpeg Height
FE:330 mm (13.0 in) FM: 334 mm (13.1 in)
Weights:
Dry Weight
FE: 534.6 lbs FM: 523.6 lbs
Curb Weight
FE: 558.9 lbs FM: 547.8 lbs
Maximum Weight Capacity
220 kg (485 lbs)
Suspension:
Frame Type
Double Cradle
Front Suspension Type
Double Wish Bone
Front Wheel Travel
150 mm (5.9 in)
Front Damper
Double Tube
Rear Suspension Type
Swingarm
Rear Wheel Travel
150 mm (5.9 in)
Rear Damper
Double Tube
Tires and Rims:
Front Tire Size
AT24 X 8-12
Rear Tire Size
AT24 X 9-11
Front Rim Size
12 X 6.0 AT
Rear Rim Size
11 X 7.0 AT
Front Tire Brand
Dirt Hooks 15 (Goodyear)
Rear Tire Brand
Dirt Hooks 14 (Goodyear)
Brakes:
Front Brake
Hydraulic Drum Brake
Rear Brake
Mechanical Drum Brake
Fuel Tank:
Fuel Tank Capacity (Full)
13.0 Liters (3.43 US Gal)
Fuel Tank Capacity (Reserve)
3.2 Liters (0.85 US Gal)
Engine:
Cylinder Arrangement
Single Cylinder, longitudinal
Bore and Stroke
78.5 x 68.0 mm (3.09 X 2.68 in)
Displacement
329.1 cc (20.08 cu-in)
Compression Ratio
8.8 : 1
Valve Train
OHV
Cooling System
Air Cooled
Engine Dry Weight
FE: 99.9 lbs FM: 96.6 lbs
Clutch:
Clutch System
Centrifugal & Multi-plate, Wet
Clutch Operating System
Automatic
Transmission:
Transmission Type
Constant Mesh, 5-speeds with Reverse
Primary Reduction
2.188 (70/32)
Secondary Reduction
1.933 (29/15)
Gear Ratios: 1st
3.455 (38/11)
2nd
1.933 (29/15)
3rd
1.333 (28/21)
4th
0.966 (28/29)
5th
0.720 (18/25)
R
4.600 (39/13 X 23/15)
Gearshift Pattern
R-N-1-2-3-4-5
Electrical:
Ignition System
DC-CDI
Starting System
Electric Starter Motor and Recoil Starter
Charging System
Triple Phase Output Alternator
Regulator / Rectifier
SCR Shorted, Triple Phase Full-Wave
Lighting System
Battery